Laboratory Services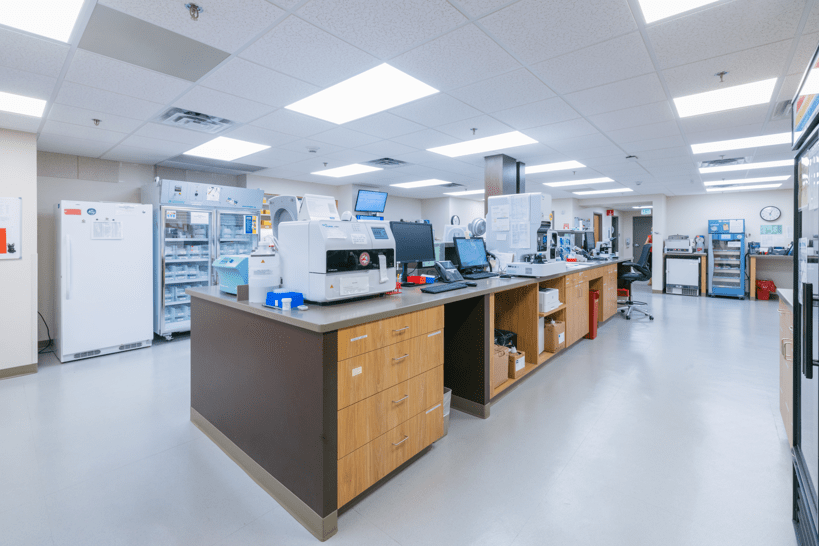 The Frances Mahon Deaconess Hospital (FMDH) Laboratory is accredited by COLA/CLIA, which allows us to provide the best possible patient care by advancing the quality of our laboratory services. We focus on exceptional laboratory testing and excellent customer service.
We are associated with Billings Clinic Laboratory and Mayo Medical Laboratories.
​
Services Include
Chemistry/Immunology: Testing your blood and body fluids for chemicals (such as glucose-blood sugar, potassium, sodium, and many more). These chemicals can help your doctor monitor how your liver, kidneys, and heart are functioning as well as your thyroid, iron, and vitamin D levels.
Hematology/Coagulation: Examining the cells that make up your blood and how well they are working. Hematology counts the red cell, white cells, and platelet levels. These cells fluctuate in size, number, and shape depending on if you are healthy, sick, or have a condition that damages your cells. Coagulation checks to see how long it takes your blood to clot. Usually, you want it to clot right away, but if you are taking a blood thinner, like coumadin, your Doctor may want your blood to clot a little slower. We measure that time and give that information to your Doctor so that your medication can be adjusted if needed.
Microbiology: Analyzing bacteria that may be causing an infection. These infections can happen anywhere in or on your body and we examine it all. The information we give your Doctor helps them choose the right antibiotic to clear up your infection.
Occupational Drug Testing: This department collects the pre-employment, random, or post-accident urine drug screens that your employer requires.
Serology: Performs tests like pregnancy, strep, mono, and influenza looking to see if you were exposed to a disease.
Specimen Collection: Obtaining samples, usually through a blood draw, or giving you the supplies to collect your own samples (such as urine or fecal samples).
Transfusion Medicine: Performs pretransfusion testing (blood types) as well as preparation of units of blood to be transfused to patients. We cannot help with donation of blood, but once you donate blood to the American Red Cross, it comes to us so that our patients can receive that blood.
Urinalysis: Tests urine. This can help tell your Doctor how well your kidneys are working or if you have an infection in your bladder or urinary system.
Contact Us
Office hours are 8:00 a.m. – 6:00 p.m., Monday through Friday by appointment only.
You can reach the Laboratory at (406) 228-3677.