Emergency Medical Services
24-Hour Treatment for Severe Illnesses & Injuries
When a life-threatening medical emergency takes place, we are here for immediate, expert medical care. FMDH's Emergency Department can meet your needs around the clock, 24/7. When you arrive at our ER, you will be greeted, registered, and quickly assessed for the severity of your injury or illness. Blood tests, X-rays, and other tests may be necessary for diagnosis. Then, you will be taken back to the triage area, where your medical treatment plan will be decided upon diagnosis. Once your physician goes over the results of these tests, it will determine whether you can return home or if you need to be admitted as an inpatient.
When to Drive to the ER or Call an Ambulance
It can be tricky to determine whether you should dial 9-1-1 or drive someone to the hospital yourself. But, if you're unsure, it's always better to be safe than sorry, especially in the case of a possible heart attack, stroke, or uncontrollable bleeding. Even if you think you can get to the hospital faster by driving, the trained emergency medical technicians in the ambulance can administer life-saving treatment en route to the hospital.
Don't wait for someone to drive you or drive yourself to the hospital if you have a life-threatening emergency. Always call 9-1-1 for immediate transportation. Examples of potentially life-threatening health threats include:
Heart Attacks
Stroke
Fractures
Severe bleeding
Chest pain
Trouble breathing
Head injuries
Major trauma
Loss of consciousness
Severe headaches
Confusion
Severe abdominal pain
STAT Air Ambulance Cooperative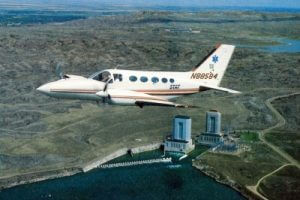 Since 2007, Frances Mahon Deaconess Hospital has been a proud member of the Northeast Montana STAT Air Ambulance Cooperative, formed by FMDH with other local health service providers. The purpose of our air ambulance is to ensure our community has access to Emergency Critical Care Nurses and transport teams with advanced skills and equipment in the care and risks associated with transporting critically ill or injured patients.
Currently, the STAT Air Ambulance conducts nearly 700 flights per year with the majority of transports from Northeast Montana to Billings or Great Falls, but is able to transport patients to Denver, Mayo Clinic in Minnesota, Salt Lake City, or Seattle for specialized care.
The flight program is responsible for the care of patients being transported by air, in an intensive care environment, from one facility to another. Our mission is to provide high-quality, cost effective medical care, with well-trained physicians, staff, and pilots to make sound medical and aviation decisions. This frequently involves the primary stabilization of the patient in the referring facility, which may have limited resources and personnel. STAT Air flight crews are trained in all aspects and risks of transporting patients in the air environment including handling deranged persons, ditching and evacuation, radio communications, on-board oxygen systems, loading and un-loading passengers, turbulence and weather extreme precautions, and emergency use of aircraft equipment and controls.
What Staff Is on a Flight?
Flight crew configuration consists of NE MT STAT Air Cooperative employees including the pilots, critical care RNs, mechanics, and administrative staff. Typical configuration is a pilot, and two critical care nurses. We often reserve an additional seat for a family member.
If you have an emergency, please dial 9-1-1.
Contact Us
Call us with any non-emergent questions or concerns about our ER Services in Glasgow at (406) 228-3648.