Event Details
2023 FMDH Health and Wellness Fair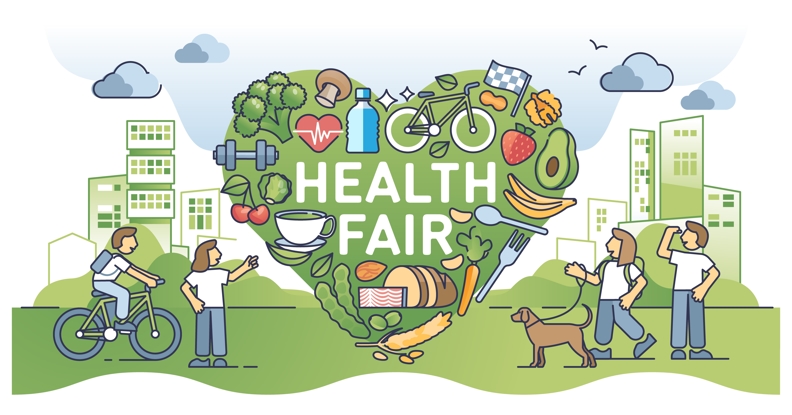 About This Event
Details:
HAPPY + HEALTHY
Join us at the 2023 FMDH Health & Wellness Fair! Don't miss out on our free activities, screenings and information about healthcare and wellness related services offered by local organizations and businesses. Bring the whole family!
MEET YOU THERE:
+ Saturday, October 21, 2023
+ 9:00am - 12:00 pm
+ Glasgow Civic Center - 319 3rd Street South Glasgow, MT 59230
HIGHLIGHTS:
+ Flu Shots - Now is the time for your annual flu shots! Don't forget your ID and insurance card!
+ Giant Lungs - MEGA Lungs; an inflatable, large-scale, interactive, educational model of the human lungs!
+ Door Prizes - 4 grand prizes! Enter for a chance at a basketball hoop, juicer, utility cart, or adjustable dumbbells!
VENDORS:

+ Click here to register for your 2023 Health and Wellness Fair table! Deadline to register is Friday, October 13, 2023.
BOOTH IDEAS:
Awareness and Education Information:
• Self‐care information
• Humor & its health benefits
• Back care
• Child safety
• Office safety
• Recycling
• Organic produce
• Stress information
• Ergonomics
• Recreational safety
• Women's/Men's health issues
• Nutritional information
• Dental and oral health
• First aid and emergency preparedness
• Childcare resources
• Skin care & sunscreen
• Cancer & preventive exam schedules
• Heart health
• Mental health
• Importance of physical activity
• Substance abuse information
Lifestyle Information and Screenings:
• Blood pressure
• Blood type testing
• Body mass index/obesity
• Bone density testing
• Health risk assessments
• Flexibility testing
• Flu vaccines
• Glucose testing
• Mobile mammography
• Nutritional analysis
• Total cholesterol testing
• Hearing
• Vision
Question & Answer sessions with local professionals:
• "Ask a Doctor, Nurse, Chiropractor, etc."
• "Ask a Policeman, Fire fighter, etc."
Safety:
• Accident prevention
• Fire extinguisher demonstrations
• Carbon monoxide poisoning information
• CPR demonstrations
• First aid
Food Service:
• Free samples of healthful foods
• Food storage and safety demonstrations
• Healthy cooking ideas/recipes
Transportation:
• Safety belt and child safety demonstrations
• Bike helmet safety
• Bike road rules
• Walking/Biking trails
Activity Ideas:
• Chair massages
• CPR
• Yoga
• Stress relief techniques
• Exercise equipment demos
• Weight training for beginners
• Exercise routines that can be done at home without equipment
• Healthy cooking
• Grocery shopping Strategies
• Meal planning
• First aid
• Hand washing—glitter germs
• Proper teeth brushing
• Home health kit design
• Ergonomics
• Martial arts
• Disc golf
• Proper lifting techniques
• Dance class
• Distracted driving demonstration
• Wellness scavenger hunt
Registration
Price:

Free

Registration Instructions: